On March 1st, the school district has a resolution on the ballot for the citizens of the district to consider. This resolution was adopted by the board in October but as election day draws nearer the district is working to ensure you are well informed as you make your decision.
The resolution is asking the voters to consider allowing the board to implement a Physical Plant and Equipment Levy at a maximum of .67 per thousand. This levy would be a combination of property and income surtax. It would be specifically used for updates to the school facility that will be necessary over the next 10 years.
Below you will find a list of questions you may have as well as answers to those questions. If you think of other questions please let us know and we will add them to the list and share them with the community.
What is the school putting up for a vote? The West Harrison CSD has placed a levy on the ballot for voter consideration. This levy is called a Physical Plan and Equipment Levy (PPEL) and proceeds from this levy have limited and specific uses. The makeup of the levy can be a blend of property tax and income surtax which is determined annually by the board.
When will this vote take place and where do I vote? The Physical Plant and Equipment Levy will be on the March 1st ballot. Polls will be open from 7:00am-8:00pm. Voting locations include: Modale - Modale American Legion BLDG 102 E. Palmer Mondamin - Mondamin Community Center 200 Maple Street Little Sioux - Little Sioux City Hall 407 N 1st Street Pisgah-Moorhead - Fellowship Hall Pisgah Methodist Church 420 Front St.
Who will be voting on this levy? Any eligible voter who lives within the West Harrison Community School District would be eligible to vote on the issue. The levy would be applied throughout the West Harrison Community School District.
What percentage of the voters have to vote for the PPEL for it to pass? Voter PPEL requires a simple majority approval to pass so 50% of votes cast plus one vote.
How much is this levy? The ballot language for this particular PPEL levy specifies a ten year period at a maximum rate of sixty-seven cents (.67) per thousand of taxable valuation. If approved the school board can set the levy at any amount up to $ .67 per thousand annually during that ten year period.
Why are voters being asked to consider this levy? The school buildings at West Harrison were built in 1960 and 1994, respectively. Since 1994 there has been some roofing done but very little else, meaning all of the heating and cooling components are nearing thirty years of age. There is a high likelihood that over the next ten years repairs and or replacement of many components may need to take place. As examples: air handling units (we have 6) and boilers (we have 2) can cost over $50,000 each, in ceiling air units (we have 90) cost over $2500 each, and the air conditioning unit will likely have a $100,000 cost to replace. In addition we will have to perform some maintenance on the track in the next 2-5 years which is currently estimated to be a minimum of $80,000
Can these funds be used to pay people? No. PPEL funds can only be used for a specific set of expenditures and even within that category of expenditures items must have a cost over $500 to be paid through PPEL or SAVE dollars.
Why can't these expenses be paid through the Board Approved PPEL and SAVE Funds (Sales Tax) the school receives? In fiscal year 2022, the district will receive $378,000 in SAVE funds and $84,000 Board Approved PPEL funds. Over the last five years the average expenditures for these two accounts has been $476,000. While we can work to reduce expenditures we do not have the ability to reduce them to a point that will allow the district to address the expenditures that will be necessary in the next ten years.
What options exist to address the needed updates? Do nothing. The advantage to this concept is that it has no current cost in the short term. The disadvantage is that it is not sustainable if the West Harrison community wishes to continue to have a school facility within the district. Voted PPEL Levy. With this option a ten-year plan to update infrastructure is created and we pay as we go, levying only what is needed to pay the costs associated with the items identified in the plan for the upcoming year. Bond Referendum. With this option we bond for the total cost of updating infrastructure and do all upgrades at one time. The advantage to bonding is that all repairs are completed at one time. The disadvantage is the requirement to pay interest on the debt as well as possibly replacing some equipment before it is absolutely necessary.
How is this different from a bond referendum? In a bond referendum the school would be borrowing money and the tax would be used to service the bond and accrued interest. The bond proceeds are spent over a 1-2 year period and the debt is serviced over an extended period of time. What is being proposed with the Physical Plant and Equipment Levy is to create a master plan for updates and "pay as we go" allowing us to spread out projects.
How will the board decide how much to levy each year if voters approve the $.67 PPEL levy being placed on the ballot? The board intends to evaluate equipment needs and then develop a plan that spreads costs over time to the extent possible. How long that plan can be extended will be determined by the condition of the equipment and/or facility. This will allow the levy rate to be set at the lowest possible amount.
Will this levy be on property only or can it be split between income and property tax? The board has the ability to utilize a combination of property or income surtax to generate the funding. Below is a chart related to property taxes. Income surtax is a percentage based on the amount of income tax that you pay NOT a percentage of your total income. As an example, if you pay $10,000 in income tax and the income surtax rate is 2% then your surtax would be $200.
What will this cost me? It is important to understand how the taxable valuation of your property is determined. Taxable valuation is not the same as market value or even assessed valuation. To determine taxable valuation you take the assessed value of the property and multiply it by the rollback percentage. For residential property you then subtract your homestead credit. This number is then multiplied by levy rate which in this case is $.67 per $1,000 of taxable valuation. Here are a couple of examples: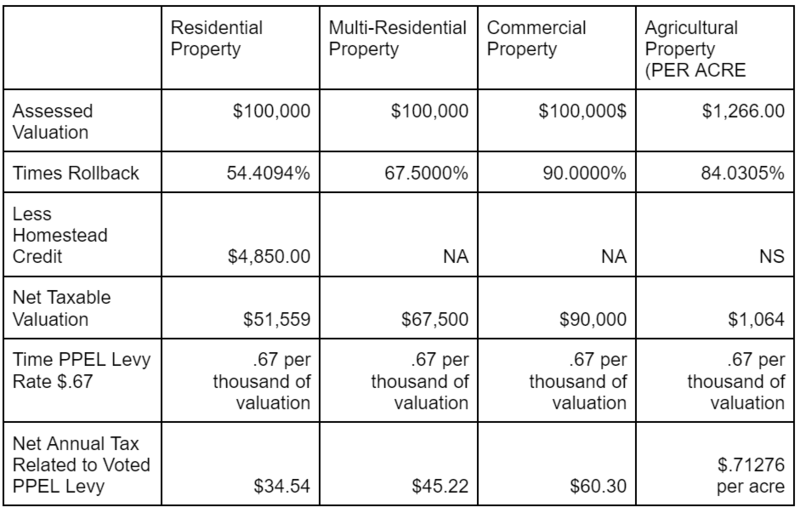 What If I have other questions? It is the board's goal to answer as many questions as possible prior to March 1st so that voters can make an informed decision. If you have questions that are not answered by this document please contact the school office. As questions come in we will update this list and share the additional information.