West Harrison will be hosting a 1st round boy's district basketball game against West Monona on Feb. 11th at 7:00 p.m.

West Harrison Host Special Olympics Basketball Tournament West Harrison hosted the West Region Basketball Tournament on Saturday, Feb. 2nd. This is the fourth year that West Harrison has hosted this tournament and it has become an event that many students look forward to. There were 23 teams from around western Iowa, from Sioux Center to Griswold. There were 3 on 3 half court divisions as well as 5 on 5 full court games. There were a total of 24 games played over 5 courts from 9:30 am to about 1:30 pm. We had 14 student volunteers this year. The students worked the scoreboard, scorebook, kept time, gave out ribbons, and any other jobs they were asked to do. There were many remarks made by the Special Olympic Members as well as parents on how well the students did their jobs. They were all impressed by our facilities and our workers. The students did a great job and represented West Harrison as outstanding people. Volunteers: Kaylee Woodside, Kira Anderson, Katie Gore, Lydia Gilgen, Kierstyn Bieler, Austin Acker, Hunter Hansen, Grace Thomas, Nick Rife, Joslynn Thomas, Chenoa Bowman, Logan King, Chloe Gilgen, and Hannah Thomas. Also, thank you to the booster club for doing the concession stand and the following teachers and community members for their help: Kathy Glennie, Joe McMinamen, Tara Rife, and Carla Carritt. If I missed anybody I apologize. Great job West Harrison!

Hi! We're Emily, Haleigh, Maren, and Morgan from the West Harrison FCCLA chapter. For one of our community service projects, we have decided to make chemo care packages and cancer care pillows for residents in the Lakeside Breast Center in Omaha, Nebraska. Cancer is a issue we have all faced in our families and communities. We would like your help to collect items and monetary donations to fund our project and make the days of those recovering from treatments better and more comfortable. The chemo care packages will consist of recreational items, such as crosswords, and necessary items featured on the list. The cancer care pillows are heart-shaped pillows that patients can put under their arms for pain relief after surgery. Thank you to all! Your help is greatly appreciated!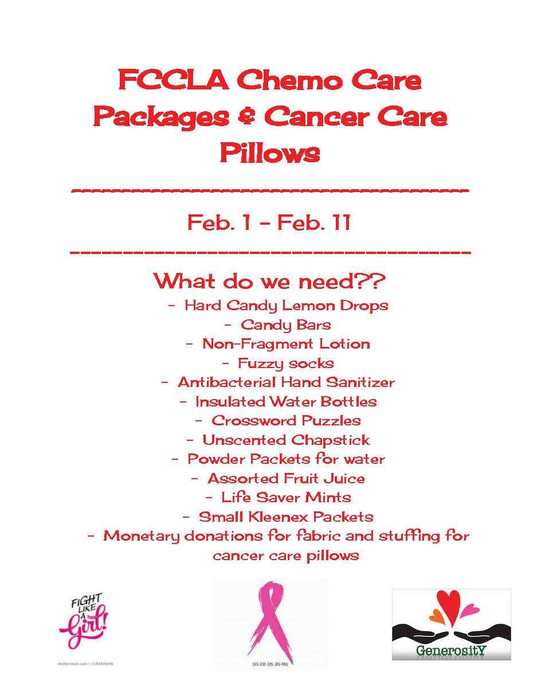 West Harrison CSD will have NO SCHOOL Wednesday, January 30th.

The varsity games from Tuesday against Coon Rapids-Bayard has been moved to Saturday (Feb. 2nd). The boys will play at 6:00 pm and the girls will follow.

Jan. 29- The wrestling meet has been cancelled. The varsity basketball games have been postponed (date to be determined). The junior high girl's basketball game will start at 3:45 in Logan and only one game will be played.

West Harrison will be hosting the first round of regional girls basketball on Feb. 7th at 7:00 pm against Heartland Christian.

The West Harrison high school wrestling team will be at Treynor on Jan. 29th starting at 6:00 pm.

The HS wrestling meet was changed to Missouri Valley for tonight (Jan. 24) at 6:00 pm.

The HS wrestling meet for tonight (Jan. 24) has been cancelled. Treynor schools let out early due to weather in their area.

All West Harrison students who participated in large group district speech contest earned a division I rating and qualified for state. Kayla Lynch and Aaron Peterson competed in improvisational acting; Maren Evans, Jayden Kraft, and Ema Aldrich competed in improvisational acting; and Maren Evans, Jayden Kraft, Brylee Sherer, Sydney Sherer, and Ema Aldrich competed in ensemble acting. State competition is Saturday, February 2nd at West Des Moines Valley.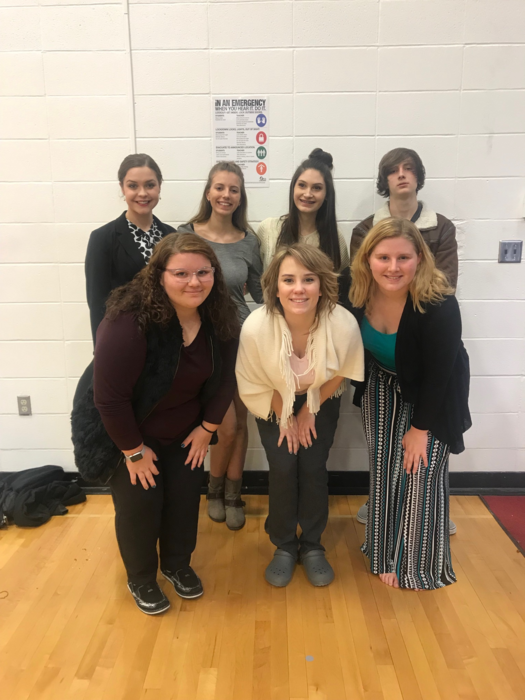 K-6 West Harrison Hawkeye Cheer Clinic forms maybe return on 1.24.19 by 8:30 a.m. to Elem. Office.

The wrestling meet today (Jan. 22) in Bedford has been canceled due to the weather.

The JV game at Iowa School for the Deaf on Thursday, Jan. 24th has been canceled to make room for the varsity game.

The varsity games with Paton-Churdan at home today (Tuesday, Jan. 22) has been moved to Thursday, Jan. 24th. The girls game will start at 5:00 pm with the boys following.

The JH Girls basketball game with West Monona today (Tuesday, Jan. 22) has been cancelled due to the weather.

Due to school being cancelled and icy roads, the Blood Drive today is cancelled.

West Harrison School will be closed Tuesday January 22nd due to icy conditions.

Special Olympics Basketball Tournament Volunteers Needed West Harrison will again be hosting the Regional Special Olympics Basketball Tournament on Feb. 2nd. Volunteers are needed for scoring, timers, and supervision. This will be fourth year that West Harrison has hosted the tournament. The tournament starts at 9:00 am and goes to about 1:00 pm. There will be shifts created during the day. This has been a greatly satisfying experience for all volunteers over the last three years. If interested in helping, contact Mr. Nunez at school by phone (646-2231) or email (
anunez@westharrison.school
).

Due to forcasted winter weather, West Harrison School will be closed Friday January 18th.