Little Hawks wrestling has to be canceled for tonight (Jan. 25th).

Valentine Grams!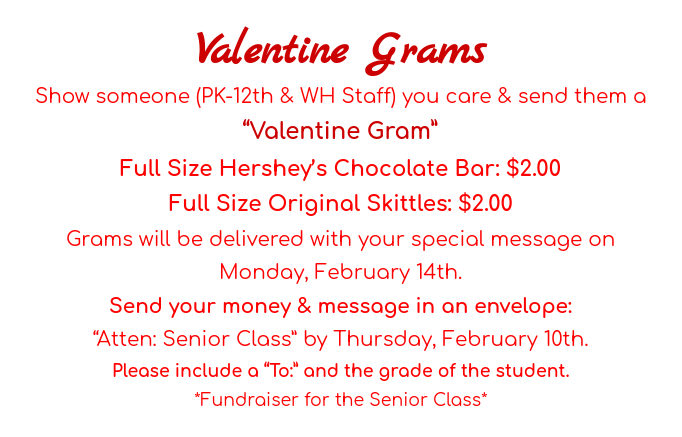 This week's Mini-Newsletter!! Notes from Mr. Fonley - Job Opportunities - What's happening in Mr. Work's and Ms. Maguire's room. Click the link to view-
https://www.smore.com/4dvpn

Today's girl's JH basketball game in Missouri Valley is postponed to a Date TBD (To Be Determined).

Good Afternoon West Harrison Families, You may be aware that some area schools have had to cancel classes this school year due to illnesses occurring within their districts. Fortunately, to date, we have not had to deal with this issue but we did want to update you on how things are going and talk about what it might look like if we did have to consider canceling school due to high illness rates in the future. We have seen large numbers of absences in the elementary since we returned from the break. Many of these relate to COVID but we are also seeing other illnesses as well. High school and middle school numbers seem to be somewhat better. So far we have been able to cover, work short-staffed, and in the case of preschool close a room for a few days when it comes to teacher and support staff illnesses. We will continue to do our very best to keep school open and if any of you have ever considered being a substitute for bus drivers, kitchen staff, teacher associates, or teachers, we could sure use your help. Volunteers are also welcomed! At this time we have not considered closing school and please know it is a last resort and will be due to not having enough staff to cover everything necessary. We have spent considerable time working through plans for coverage at school with the goal of keeping school open. That said, IF we did have to close school, we would not have the ability to give much advance notice so I would encourage everyone to think about how they would address childcare in that situation. IF school were closed we would also likely not be able to offer Little Hawks. I would also say that IF closing school were necessary, we would likely look at a maximum of a week. Again, this is not something being considered at this time or something to stress about. This is simply about keeping you informed and trying to ensure we all have the opportunity to be prepared during these unprecedented times. Marty Fonley

Due to health reasons the game at Charter Oak-Ute today (Jan. 20) is cancelled.

On Thursday, January 13, members of NHS went to Sioux City to volunteer at the Sioux City Gospel Mission Thrift Shop. Students sorted donations. The Gospel Mission provides clothes, food and shelter to the needy throughout Siouxland. Thrift store donations are used to clothe residents, and 100% sales made in the thrift shop are invested back into helping the needy, as the mission operates its thrift store with all volunteers. The students enjoyed the experience and providing service to those in need.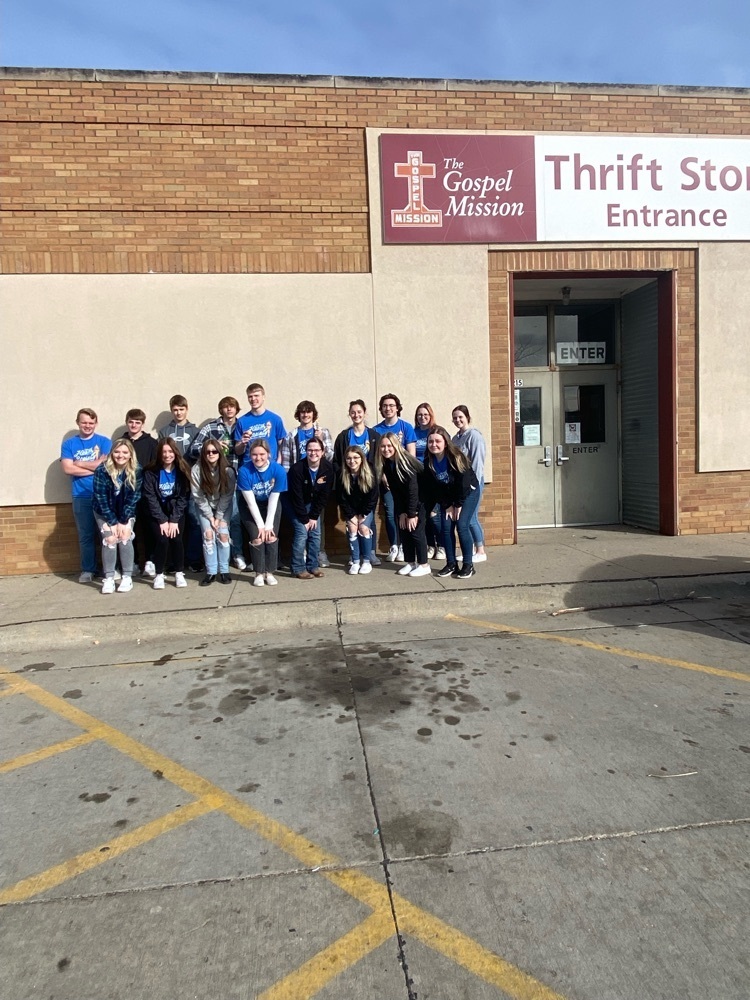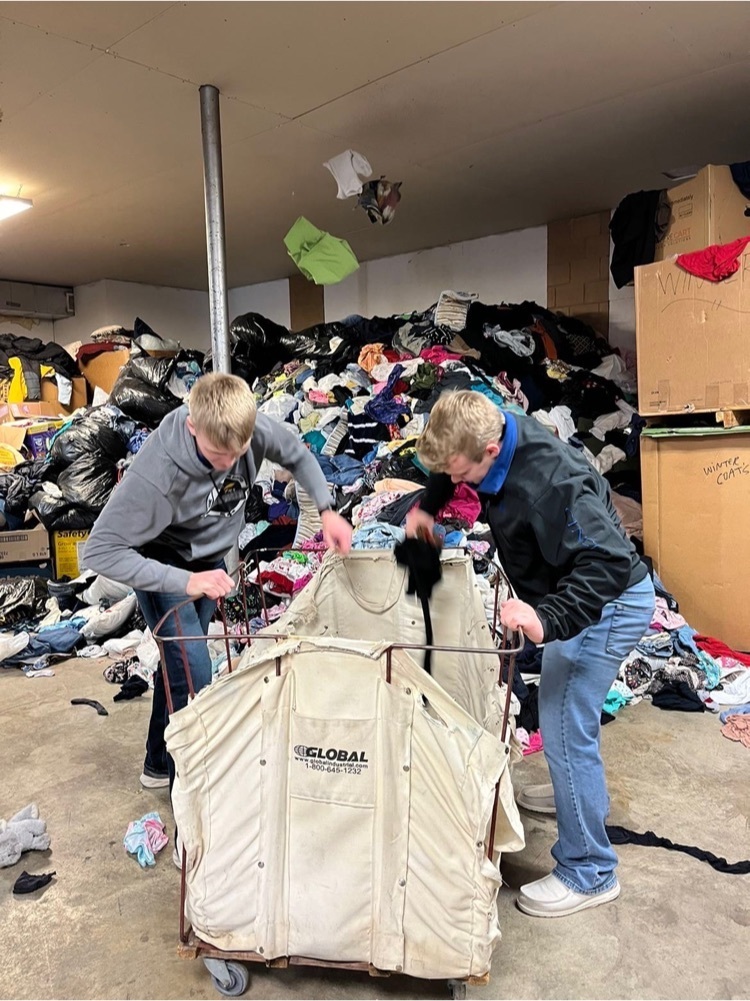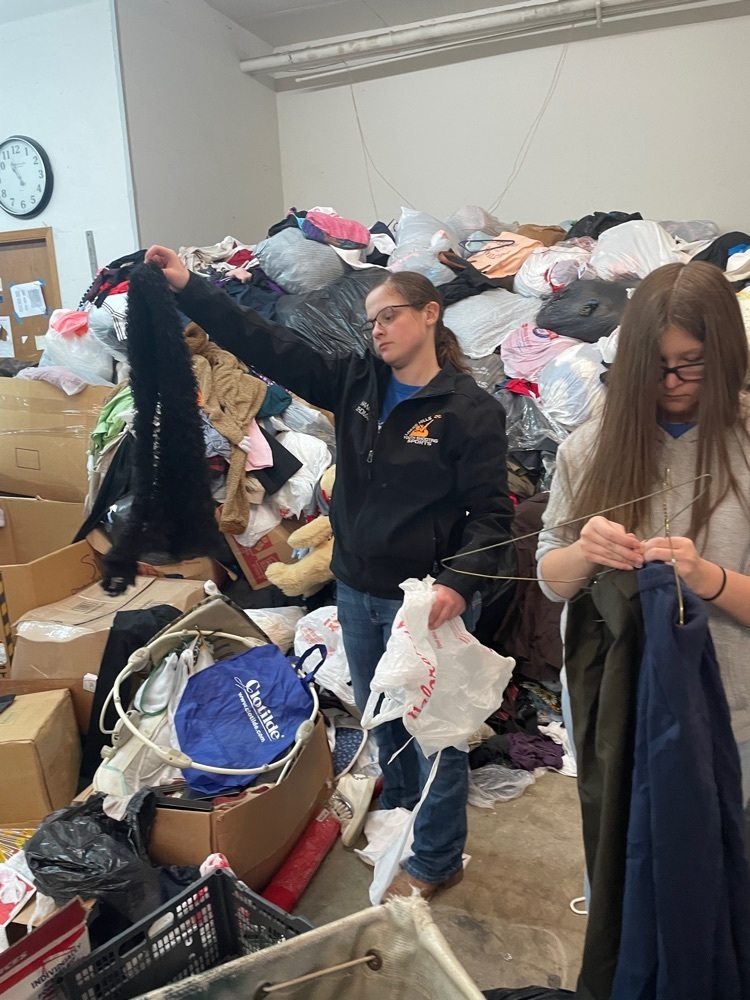 The high school girl's/boy's games for Friday are postponed to Jan. 24th. The JH game is canceled also- no make up date yet.

Due to the impending winter storm, there will be NO SCHOOL tomorrow, January 13. Little Hawks is closed as well. Stay warm Hawkeyes!
5-8 grade students participating in preseason practice for our new Youth Coding League team.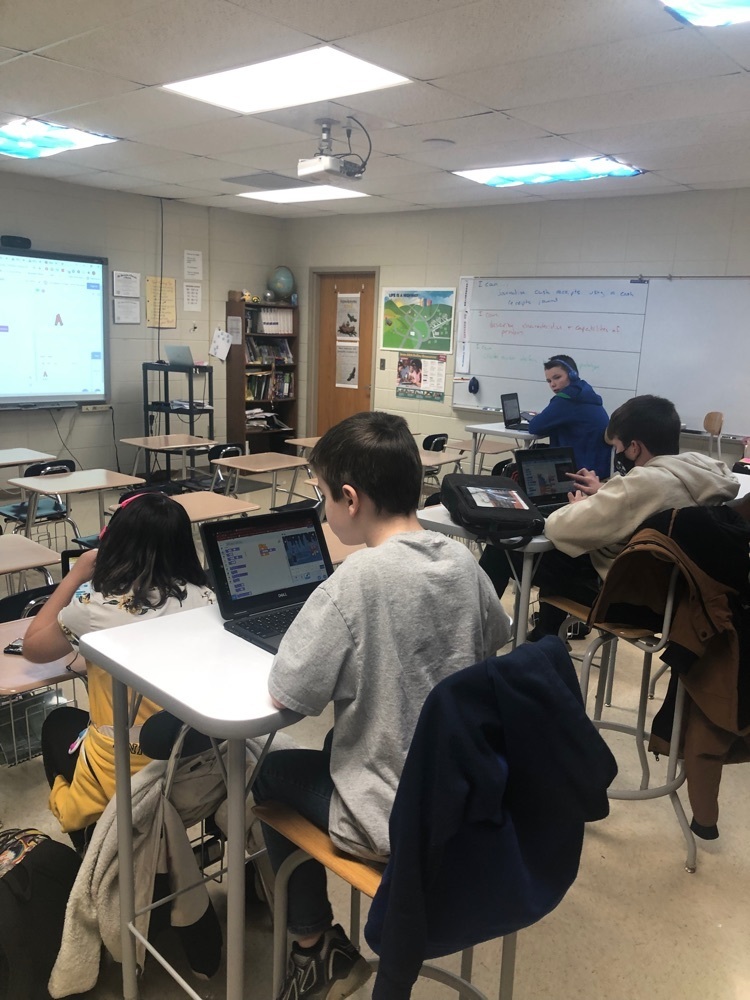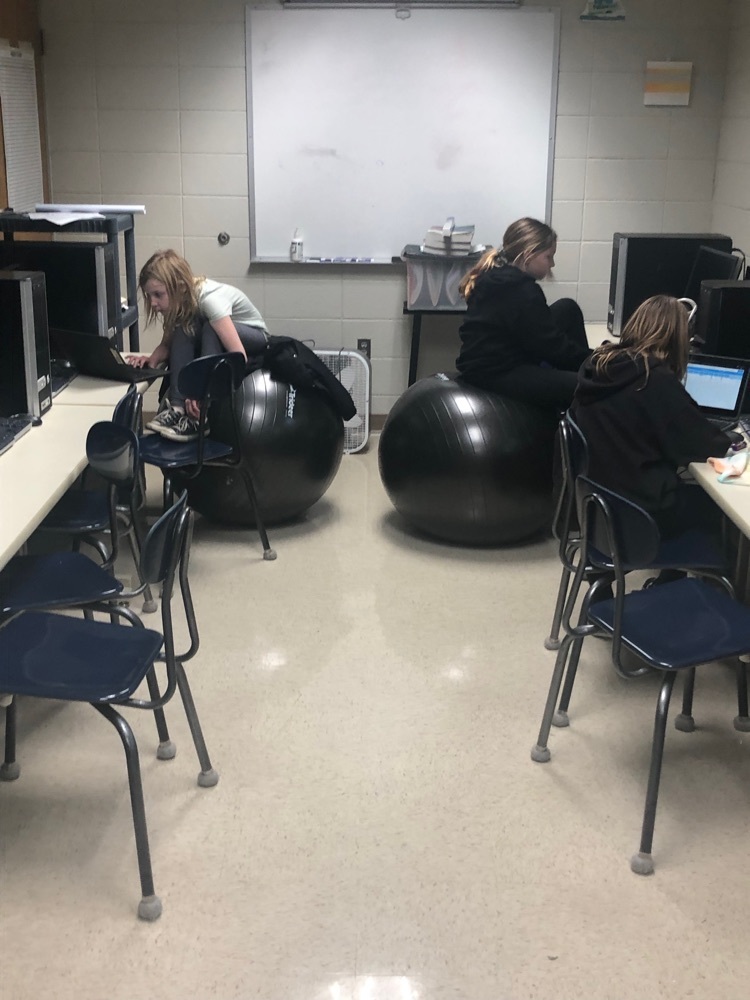 West Harrison will not be participating in the JV girl's basketball tournament this Saturday (Jan. 15th) in Dunlap.

Friday's varsity basketball games will be broadcast on KDSN radio (105 FM/1530 AM) starting at 6:00 pm.

Good morning! We have received word from Logan Armstrong that they have enough donated items to get started in a new home after their recent fire. We will only be accepting monetary donations moving forward. The other three West Harrison alumni are still needing items. Here is the list we have: Men's Jeans Sizes 36/30, 32/34, 38/32 and 38/34. Men's Shirts Sizes Large and XL. Men's Sweatshirts Sizes L and XL If you have new or gently used clothing in these sizes, please drop it off at the school. Thank you for your support!

Hawkeye families, Please take a moment to review our updated guidance for COVID isolation and quarantine of our staff and students. In a nutshell, we will still isoloate those who test (or are assumed) positive for COVID and have strong recommendations for those with direct exposure. Masks are still not required, but a student or staff member can shorten the duration of their isolation/quarantine by choosing to wear a mask upon their return to school. Mr. Fonley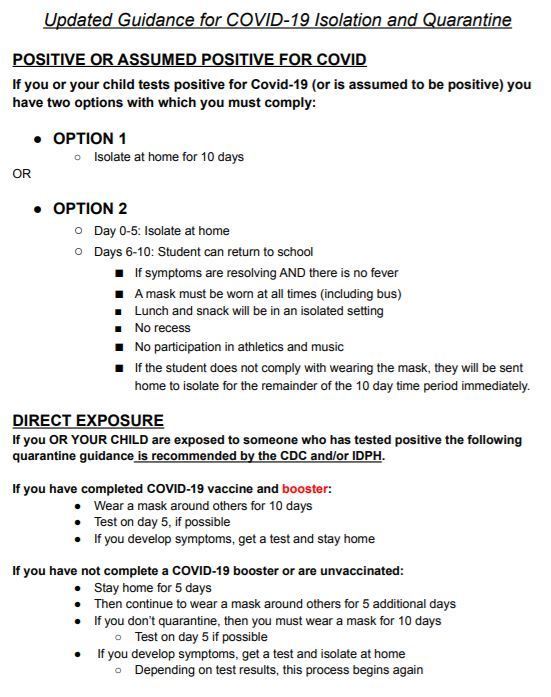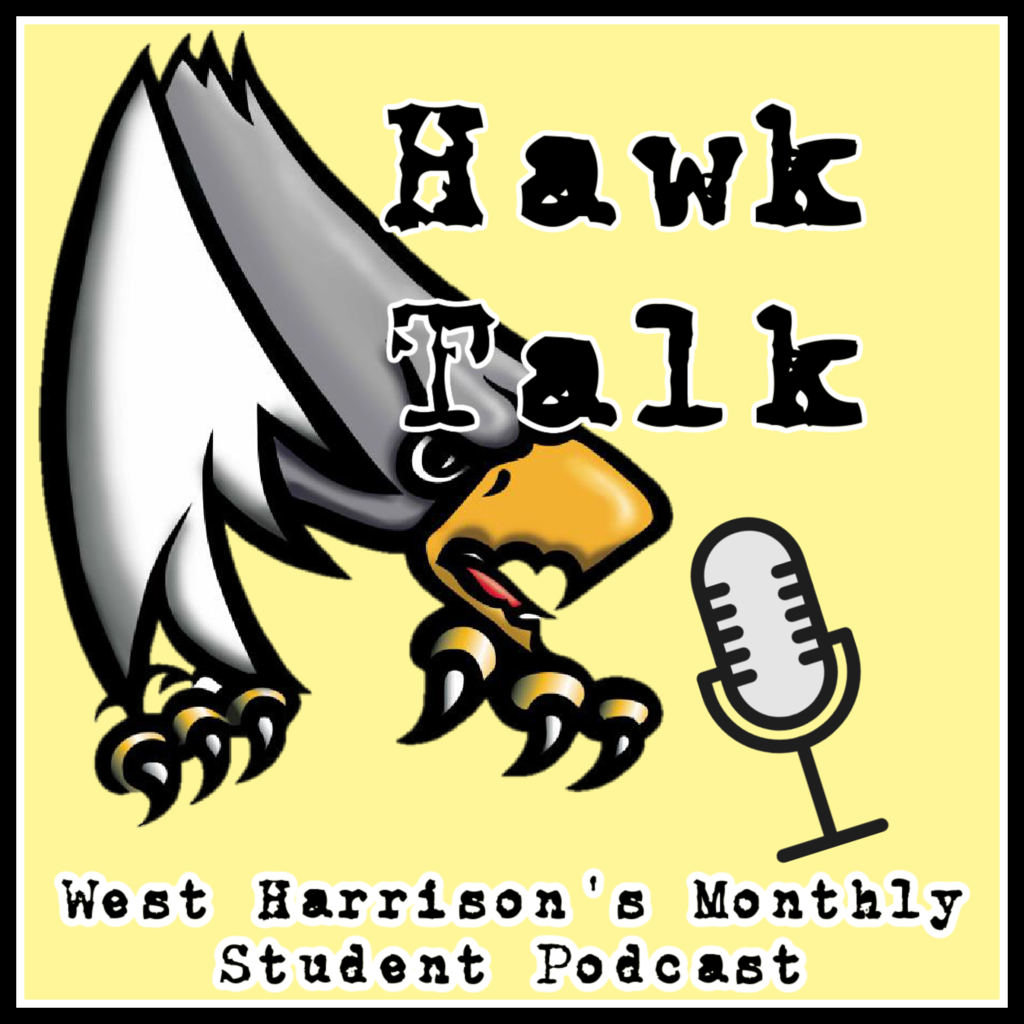 Our kitchen crew looks a little different today! When we are short staffed, our team pulls together. Thanks Dave, Mr. Fonley, and Tonya for helping out today! Please spread the word that we are hiring for kitchen staff, beginning immediately!! Apply today—Mr. Fonley and Dave are sure to be fired by Kathy ASAP. 😂😂😂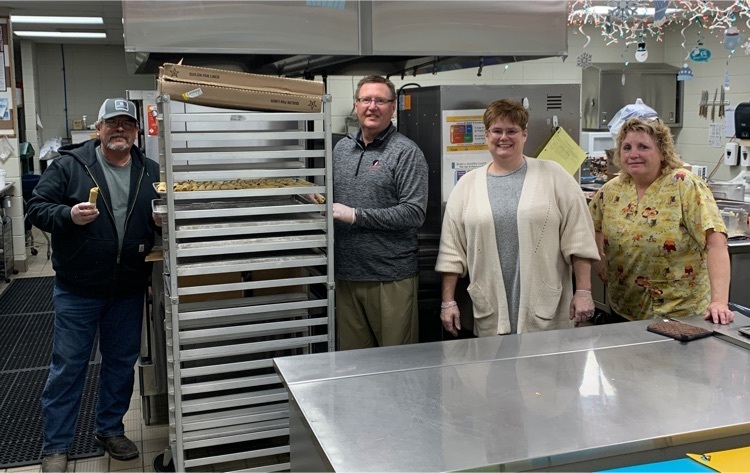 Today's JH girl's basketball game has been canceled.