The Junior High Football team will remain at school today at 1:30. All players will report to the media center from 1:30-2:15 before loading the vans for Westside departure. The game will be in Westside at 4:30pm.
Reminder that Monday Sept. 26th is a 1:30 dismissal due to MS/HS Parent Teacher Conferences

A Flu Shot Clinic will be held at West Harrison Community School October 13, 2022 beginning at 7:30 a.m. in the High School Commons. If you are interested in getting your student a flu shot please complete the "Child" form and return on or before 10/13/22. There is no cost if: The child is enrolled in Iowa Medicaid, does not have insurance, is American Indian or Alaska Native, or has health insurance that Does Not Pay for vaccines. Otherwise the cost is $25. If you have any questions please contact the school nurse. Child_Flu_Consent_9-2022:
https://5il.co/1ibc0
Youth Basketball Opportunities! I have been getting many emails for youth basketball opportunities. This takes parent support for coaching and finding players as well as the organization of it all. If you have any interest in coaching a team this season for West Harrison girls or boys and want the information for all of these leagues and tournaments please reach out to Troy Maasen
tmaasen@westharrison.school
We will support the best we can with equipment and gym space for practices. Also the idea is to get them playing, a few days a week is fine, and development for youth goes a long ways in keeping up with the action in today's JH/HS athletics. Thanks for you interest Hawkeyes!
The Cross Country meet originally scheduled in Neola on Tuesday has now been moved to this Thursday, September 22nd due to the heat forecast for tomorrow. There will be an entry fee of $5 per vehicle for the event. Thank You


The date for the October school board meeting date has changed. The October meeting will be October 5th at 6:30 pm.
The post prom dinner tonight will begin at 5pm in the commons. The Jersey Auction will begin at 6pm in the old gym with coronation to follow in the old gym at 7pm. Happy Homecoming Hawkeyes!!
The Volleyball game vs CRB Thursday will be played in our old gymnasium due to new gym resurfacing starting at 6pm. Fans will enter through the normal main high school entrance for admission and there will be signs guiding you to the old gym through the hallway. There will be homecoming decorations still hanging so ignore the mess of the long week of traffic :) There is no air conditioning but we will have it cooled as best as possible with fans. We will have limited concessions in the old gym entry for the evening. Thanks for your understanding with us finishing our new gym project.
Support Post Prom and West Harrison Athletics/Activities on Wednesday, September 14th at a 5pm dinner and 6pm jersey auction. The football team will have their game jerseys auctioned off and the volleyball team has player decorated t-shirts that they will be auctioning off for the fundraiser. Coronation will follow these events at 7pm. *The Volleyball Team has matches on Thursday evening (9-15) in the West Gym vs. CRB and the Football team will take on Boyer Valley at home Friday (9-16) for homecoming week. *Saturday (9-17) the West Harrison Volleyball Tournament has been moved to Neola due to our gym refinishing project. This will still be a 9am start.

The Junior Class Post Prom committee is having a fundraiser on Sunday Sept. 11th at the Powder Puff Events. For $15 the mom's can Tackle Your Son!!!! Let's GO Mom's and show these boys how to tackle!!!!!!!
West Harrison Booster Club is raffling a beautiful handmade set of corn hole boards with a set of 8 bags!! Tickets are on sale 1 for $10 or 3 for $20. The drawing will be held on Oct. 7th at the last home football game which is also Parents Night. You do not need to be present to win. See the flyer attached for more details on who has tickets to sell.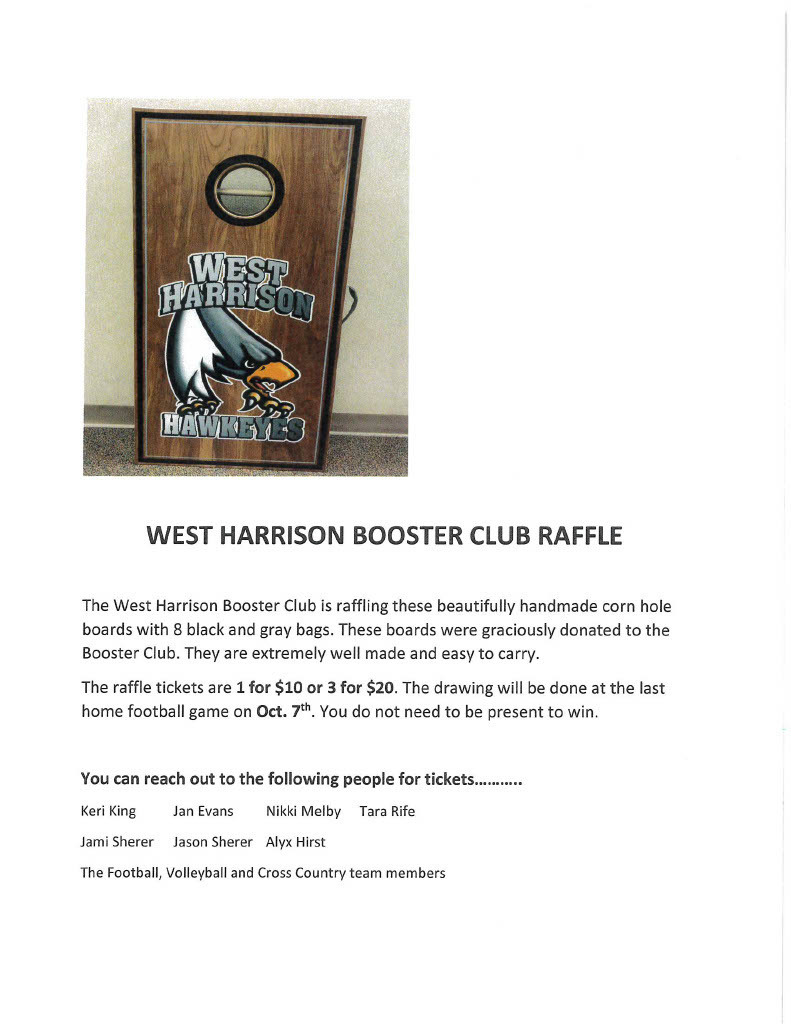 Homecoming Events are coming soon!!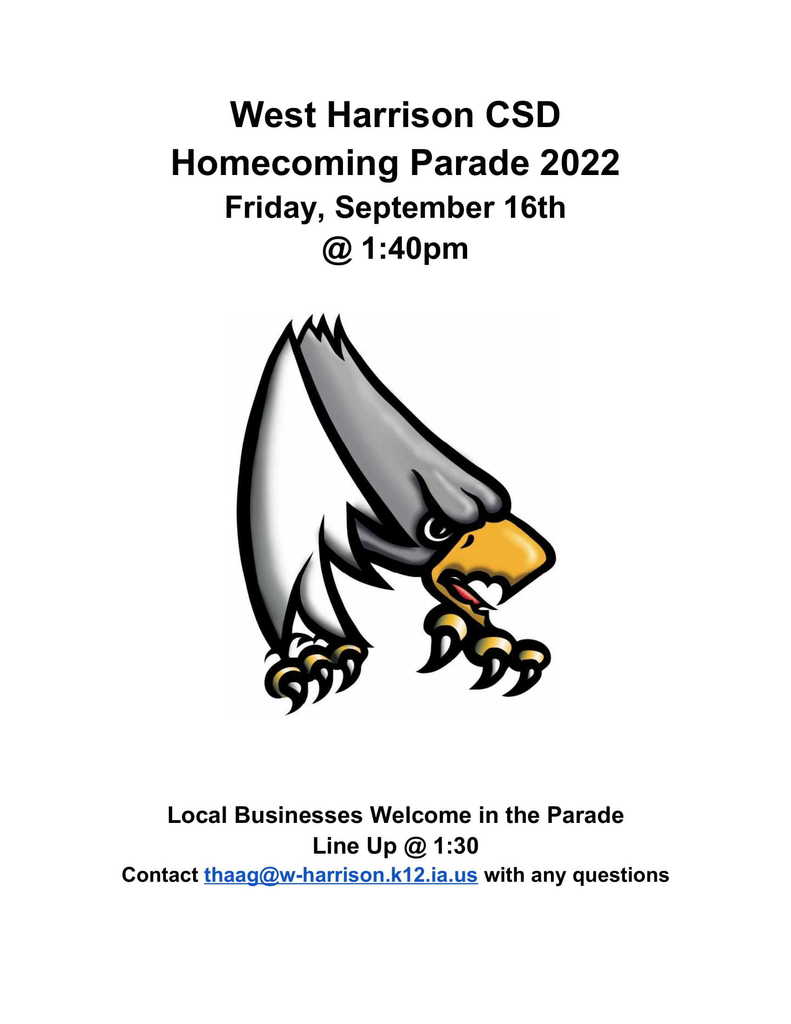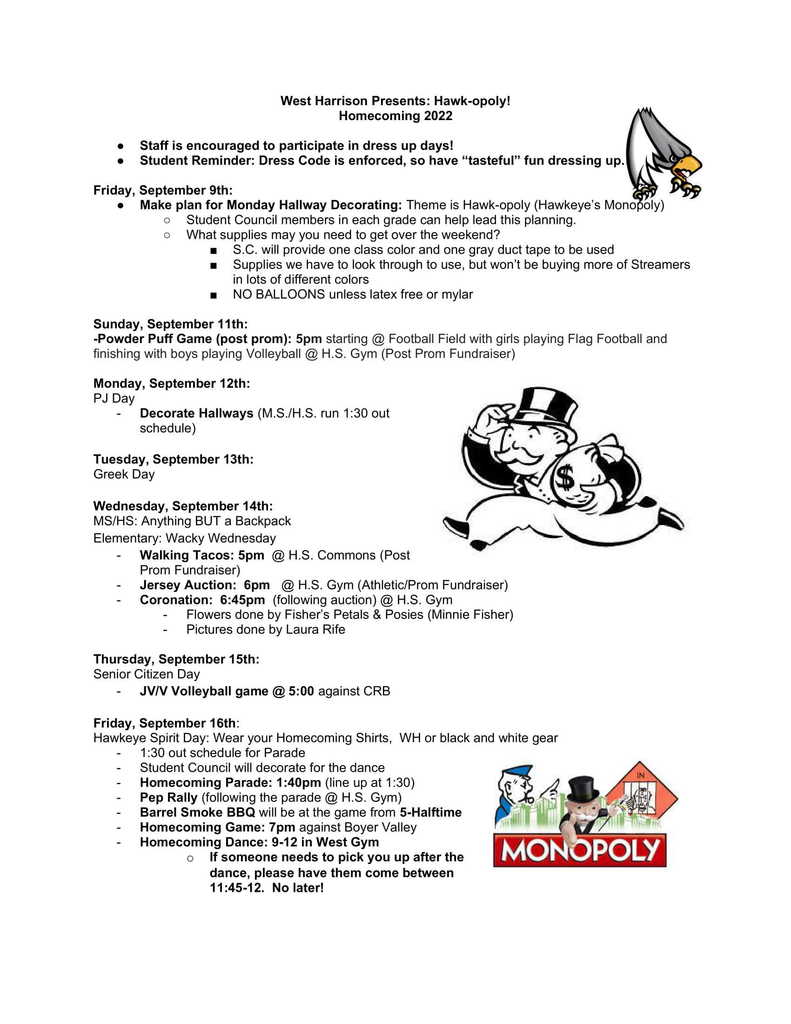 Due to Logan scheduling conflicts we will NOT be playing a JH Volleyball game Thursday, September 8th. The athletes will complete a controlled inter squad scrimmage from 4pm to 5pm to get game type setting practice. Thanks for your understanding in this situation.
We are experiencing phone issues with outside calls. The phone company is aware and are on it but no ETA of when they will be working. If you need to reach the school please call 712-310-7100 for the MS/HS or 712-420-2402 for the Elementary. So sorry for the inconvenience.

Up coming post prom activities: 9/7 Post Prom parent meeting 9/11 Powderpuff event starting at 5pm at the field 9/14 Walking tacos meal serving at 5pm. Free will donation. Post prom is also seeking sponsors for powderpuff t-shirts. If you are interested in sponsoring a t-shirt please contact Tiffany Martin at 12-242-7391
There will be no Junior High Football or Volleyball today due to road resurface work at the school. The athletes have been told to notify parents or rides for this afternoon.

Want to be a Hawkeye? West Harrison CSD is currently looking for teacher associates. If interested, please contact the office at (712) 646-2231, or stop in and pick up an application!