West Harrison Summer Weight Lifting Schedule Change starting June 7th. Girls will have supervision/coaching from 9:00am-10:30am and the Boys have supervision/coaching from 8am-9am and again from 6pm-7pm. Lets have a great summer of attendance Hawkeyes!




The Baseball AND Softball games tonight (Fri, June 3) will both be one game at 5:30pm. There will be no JV ball. The games on Monday, June 6 with Ar-We-Va will be one baseball varsity game at 5:30pm and only one softball varsity game starting at 7:30pm.
Tonight at the Varsity Girls Softball Game at 5:30pm against West Monona we will do a moment of silence for Thomas Peasley, the brother of Kali Peasley and her family, who tragically passed away Tuesday evening. In honor of Thomas we will be wearing his favorite color blue, which also represents his life long journey with diabetes. A bucket will be passed at the game to support the family for support. Our thoughts go out to Kathy, Kali, and Dustin during this difficult time.

Friday's home baseball game with Boyer Valley will be one varsity game at 5:30 p.m. No JV. Monday's home softball game with Ar-We-Va will be one varsity game 7:30 p.m. No JV.

Drivers Education class has been changed due to Memorial Day from Monday (May 30) to Thursday (June 2) from 8-11 am.

The boy's baseball game with Whiting has been moved to June 1st with one varsity game at 5:30 pm. The track banquet is on for tonight at Pizza Ranch.

The summer weightlifting program will begin June 1st on Tuesday, Wednesday, and Thursday mornings. The boys will be at 7:00 am and the girls at 9:00 am. This will be for grades 7-12. If you have any questions contact Drew Radloff.
Hello Hawkeye Families!!! ​ We made it through another year of school. I am sending out this End of the Year Newsletter filled with lots of good information. Please take the time to read through it all. There are articles wrapping up this school year as well as some important information for the 2022-2023 school year. I hope everyone has a great summer and finds time to enjoy family and friends!! Go Hawkeyes!! Click the link to read -
https://www.smore.com/z4hf1

The softball and baseball games in Whiting tonight have been canceled.

The boy's track banquet will be Thursday at 6:00 pm at Pizza Ranch in Missouri Valley.

Tonight's baseball game at St. Alberts has been canceled due to rain in Council Bluffs. Wednesday's baseball game at Whiting will be one varsity game at 5:30 pm.

Next Tuesday's baseball game (May 24th) at St. Albert's will be one varsity game at 6:30 pm.

Good luck to Walker Rife and Koleson Evans at the State Track & Field Meet on Friday. Walker runs in the 400 Hurdles at 11:20 am and Koleson throws the discus at 11:30 am.

Middle School Park Day!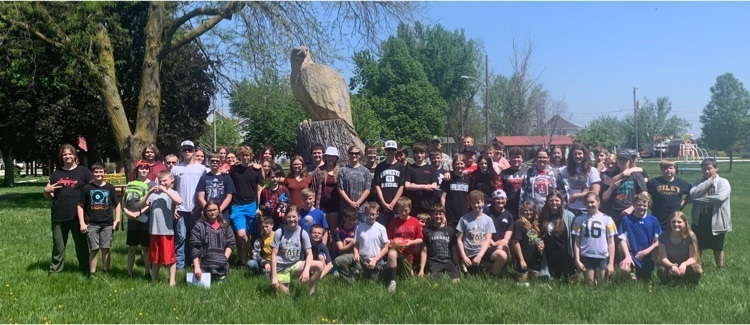 Tonight's baseball games have been canceled.