The Booster Club has some state t-shirts left if anyone is interested in purchasing them. They have (1) Adult Small, (1) Youth Small, (3) Youth Medium, (3) Youth Large, and (3) Youth XL. The cost is $15. Please reach out to Keri King @ (712) 646-2231.
The West Harrison School Board Meeting that was scheduled for Wednesday, March 8th has been moved to Thursday, March 9th at 6:30 due to the boys basketball team playing at State.
Thursday, March 9th we will have a 2 hour late start.
Wednesday, March 8th we will dismiss school at 12:30pm instead of our normal 1:30pm.
Congratulations to the Boys Basketball team on their 85-63 state win against Dunkerton!! We are all so proud of you!! Here are some notes for the next couple of days, please read......... Wednesday March 8th - School will be dismissed at 12:30pm. - There is a Pep Bus going again for 7-12th grade students. Again there is no cost to the students. Their tickets are being paid for by the Booster Club. Also it will run the same as Monday, with the concession stands being a cashless service. - The Pep Bus will leave the school at 2:00pm. The bus will not stop for anything on the trip out but they may stop on the way home for food. - The students who are riding the pep bus will be allowed to stay at the school and will be supervised until the bus leaves at 2pm. Thursday March 9th - School will start 2 hours late. Also PLEASE NOTE: The school board meeting that was scheduled for Wednesday, March 8th has been moved to Thursday, March 9th at 6:30.


Congratulations to the boys' basketball team on their quarterfinal win. The boys' will play again on Wednesday, March 8th at approximately 5:30.

STATE BASKETBALL POLICYS PLEASE DO NOT STORM THE FLOOR BEFORE ADMITTANCE It is the goal of the IHSAA to protect the safety and well being of all participants, spectators, coaches, officials, and tournament staff as well as demonstrate the sportsmanship philosophy of the IHSAA and its member schools with regard to respect for the opponent during all IHSAA award presentations. The following policy has been adopted by the Board of Control. No team(s) student body/spectators are allowed on the playing surface at the conclusion of an IHSAA post-season event without the express permission of the tournament manager. Penalty: Team or individual awards will not be presented to the participant(s) immediately following the competition and said award(s) will be delivered to the school administration of the respective teams at a time to be determined by the Executive Director of designee of the IHSAA. This penalty is in addition to any other penalty or sanction which may be imposed by the Board of Control, its Executive Director, or designee as a result of a violation of any other policy, rule, bylaw, or regulation of the IHSAA. The policy shall be enforced at all IHSAA sponsored tournaments that have an awards presentation following the completion of the event. CLEAR BAG POLICY (Allowed) **Checked upon admittance -12X12X6" Clear plastic bags permitted -small clutch purse/wallet no larger than 4.5 x 6.5" -One gallon clear plastic freezer bag
Please see the West Harrison Web Page and Facebook page for information about "storming the floor" and clear bag policy sent from the state. Also a clarification from an earlier message, tickets do have a cash option and at the gate purchase option but concessions are cashless for the event. The main concern for the "storming the floor" policy is that no one enters the floor until awards are finished and there is an ok from the IHSAA to do so. Please look for your administration and guidance in the front of the stands for permission before being allowed to enter.
A few other Hawkeye Announcements: NFHS will be showing the Youth Basketball Tournament on Saturday, March 4th from 9am-2pm. At this event, we are also selling old uniforms and track sweats at very low cost. Proceeds will go back to the athletic fund. Come out and buy your old number or jersey for a great price! NFHS will also be showing the Sunday State Boys Basketball Pep Rally at the High School Gym at 3:30. Anyone that is able to make it in person lets pack the house for this exciting sendoff for the boys. Watch West Harrison NFHS Events at the following link:
https://www.nfhsnetwork.com/schools/west-harrison-high-school-mondamin-ia
**Lastly we wanted to send out a reminder that there is also NO CASH accepted at the concessions as well at the state tournament in Wells Fargo Arena. This is a cashless venue.
For anyone who will still be around the area Monday morning and would love to come cheer the team on out of town @ 8am, please line the streets!!
There will be No School on Monday March 6th due to our boys basketball playing in the state tournament. Hope to see you all there!! Go Hawkeyes!!
To our Hawkeye Fans: Congratulations to our Boys basketball team for making it to state for the 2nd year in a row!!!! The message includes information about the state tournament, school plans for next week, and planned booster club activities for community members who would like to donate to support the team and students attending the tournament. We will not have school on Monday March 6th. West Harrison will play Dunkerton on Monday, March 6th @ 12:15 at Wells Fargo Arena. This link will take you to the Iowa Boys High School Athletic Association Website containing ticket information, maps of the area, information about the arena, as well as parking information.
https://www.iahsaa.org/basketball/state-tournament-central/
-West Harrison State Tournament Apparel is on sale with all orders due by Tuesday February 28th. Place your order using this link:
https://whboysstateball.itemorder.com/shop/home/
-There will be a community pep rally on Sunday, March 5th at the school starting at 3:30. We would love it if we could fill the gym to show the boys our support. The Jr Class Post Prom Committee is also hosting a chicken noodle fundraiser dinner at the Community Center from 11am to 3pm if you don't feel like cooking Sunday afternoon. Donations If you would like to make a donation this year to support the team and student body attending the state tournament please make checks payable to the West Harrison Booster Club. Donations can be dropped off at the HS office attn: Keri King. Here are a few examples of how donated funds will be used. Team Meal after practice on Sunday Team Breakfast Monday before departure for 1st round game Busing for those wishing to attend Assist with hotels for team Meal support for cheerleaders and team during the week State Tournament T-shirts for team members PEP BUS A pep bus will be available for students 7-12th grade wishing to attend the game on Monday, March 6th. Students can sign up in the high school office. Signup will be open until Thursday March 2nd. If you have any further question, please call Keri King @ (712) 646-2231

Post Prom parents would like to remind you about the Post Prom dinner on Sunday, March 15, 2023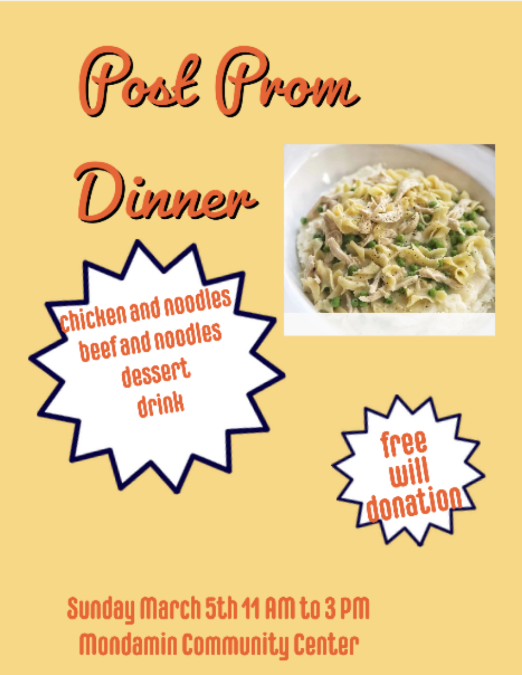 Week of February 13-16 These Hawkeyes were caught SOARing last week! This weekly award is given to students who display the following positive behaviors: S-Safety (I will act in a way that protects myself and others.) O-On Task (I will focus on what we are learning and only my own work.) A- Achievement (I will show my best effort in all that I do.) R- Respect (I will respect myself, others, and our school. I am kind and helpful.) Last weeks winners were Kenzie, Jocelynn, Miles, Layla, GrayCee, Lakota, and Payton! Way to go Hawkeyes, keep SOARing!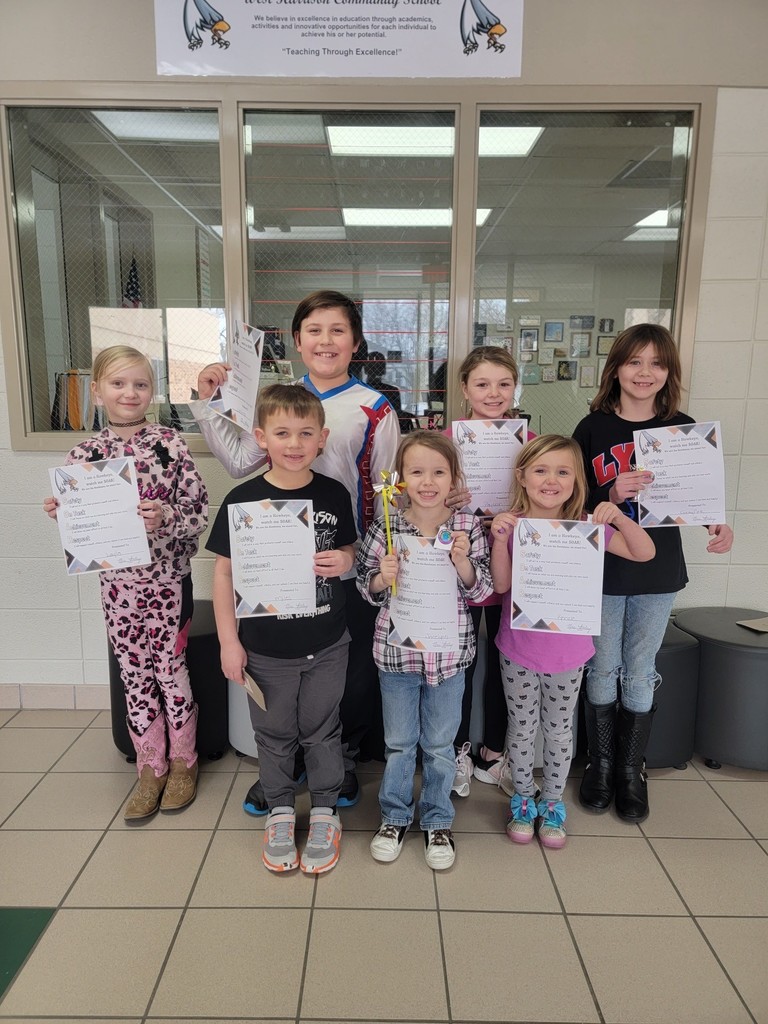 West Harrison 2023 State Basketball Apparel is on sale now!! If you would like to place an order, please do so as soon as possible so you don't miss out!! Orders are due on Feb. 28th and can be purchased online with the link below.....
https://whboysstateball.itemorder.com/shop/home/
Note - The team roster, coaches and managers will be listed on the back.