Hawkeye Family, On Friday afternoon, a fire completely destroyed the home where Logan Armstrong, Nell, and their baby Charles live. Logan is currently a senior at West Harrison. They need our support! Please consider donating money or any items in new or good condition listed below. We will be accepting donations at the high school & elementary offices or donations can be given to any senior class member. Below is information & items that the family is in need of: Men's Small Shirts Men's Size 29/30 Jeans Men's Size 9.5 Shoes Women's XL-2XL Shirts Women's XL Leggings Women's 8-8.5 Shoes 6-9 Month Old & 9-12 Month Old Baby Clothes Size 3 Diapers Personal Hygiene items Household items New & gently used items will be accepted. Thank you for your consideration. -West Harrison Senior Class of 2022

West Harrison will have a 2 hour Late Start tomorrow due to the extreme wind chill temperatures forecasted. Stay warm Hawkeye families!
Parents Please Note: Tomorrow Wed. Jan. 5th is NOT a 1:30 dismissal. Thank you

Due to the holiday break, there is no Little Hawk wrestling this week.

Happy Holidays! We had to share our favorite elf from the kitchen crew this week...Cody had WAY too much fun and the kids enjoyed seeing him each day! Enjoy your time with those wonderful kids--I know we do!
We would like to wish you all a Merry Christmas and Happy New Year!! Here is this week's Mini-Newsletter with a few pictures from the Junior Class Breakfast with Santa Event -
https://www.smore.com/4dvpn

Congratulations to Zoe Etter for signing with Iowa Central Community College for cheerleading. Pictured is Zoe with coach Mitch Murphy and family.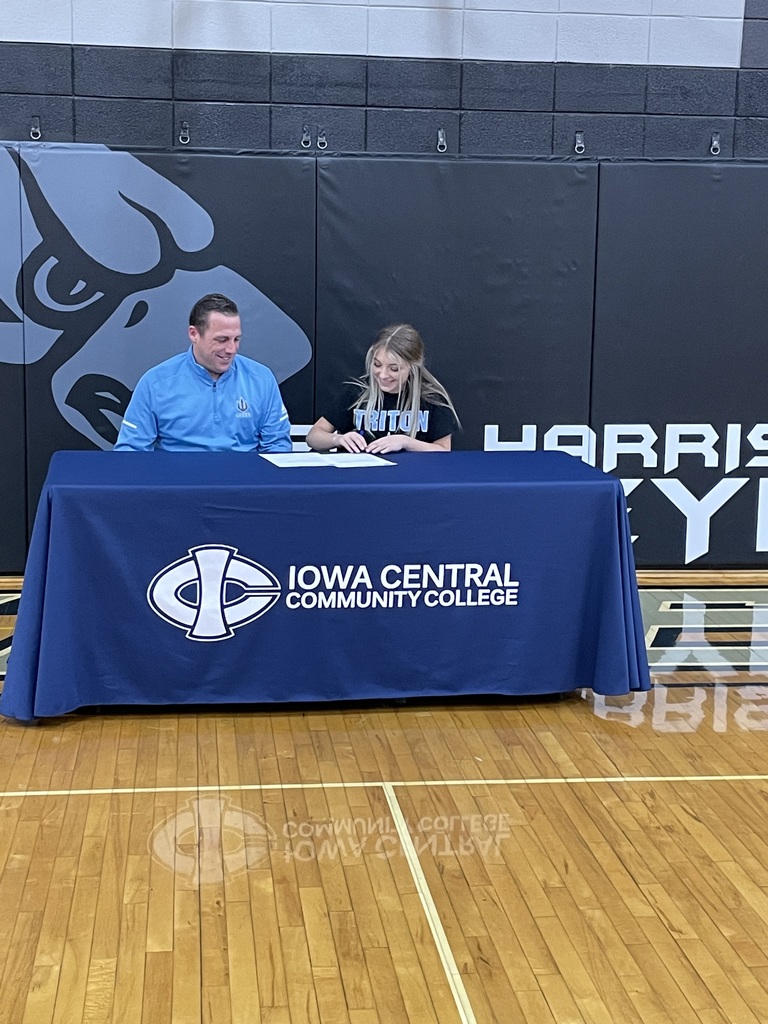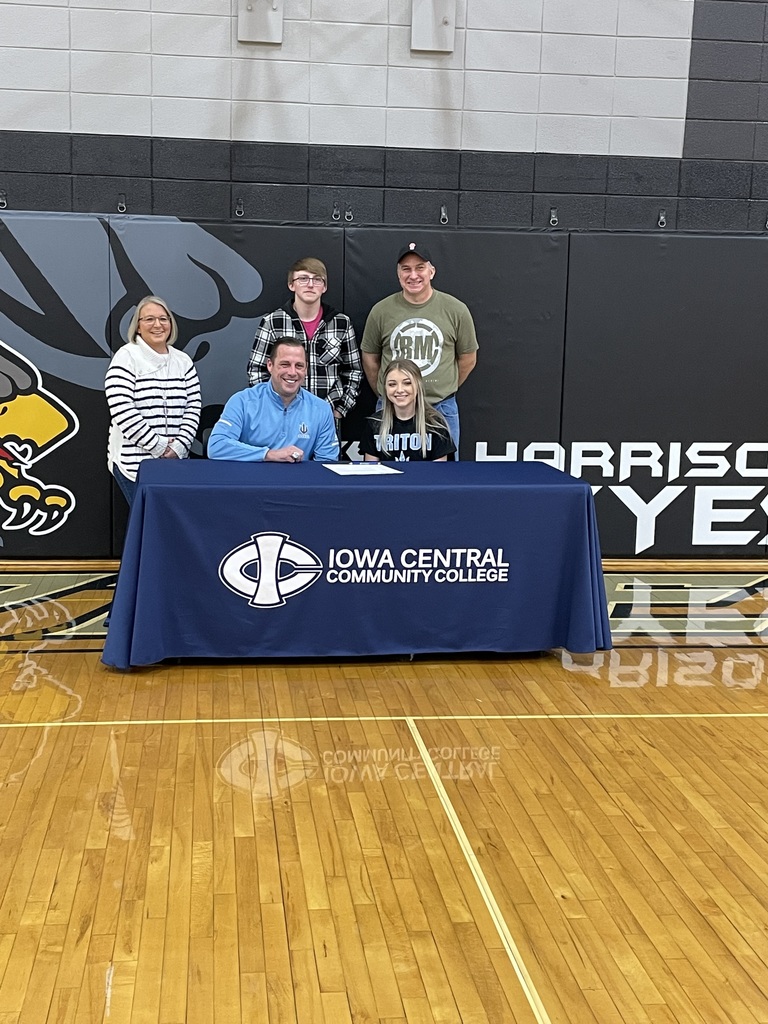 Hawkeyes Families check out who made their appearance on the rooftop this morning at school in this weeks mini newsletter
https://www.smore.com/4dvpn
West Harrison Families and Staff, Our school district recently learned of an anonymous, nationwide threat against schools that is being shared on social media outlets such as TikTok. The general threat toward all U.S. schools declares Friday, Dec. 17, as "American School Shooting Day." The posts warn about the possibility of nationwide shootings or bomb threats associated with this day. We have partnered with local law enforcement to vigilantly investigate whether there are any local connections to these social media posts. At this time, law enforcement has not acquired any evidence that would deem these threats as credible in our area. Out of an abundance of caution, our schools will be in close contact with law enforcement throughout the day on Friday and law enforcement will have an increased presence at the school. Please take this opportunity to talk with your students about the appropriate use of social media, and the seriousness and resulting consequences of making any kind of threat. Encourage your students to speak with you or an adult at school if they see or hear something so immediate action can be taken. In addition, if anyone in our community sees something suspicious, please report it to the school immediately or call local law enforcement. Thank you for your understanding and assistance. Sincerely, Marty Fonley

Elementary Parents (PK-5): Tomorrow is our Movie Day at the elementary! This is a reminder that it is a Pajama Day and that they can bring a pillow and blanket (appropriate-sized, please) to keep them comfy while they have thier fun!

Hello HS parents! The end of the semester is quickly approaching and with that comes a semester testing schedule. Please see the attached document for specific information regarding our semester tests next week. Here is information you need to know: *Seniors have an open campus (if all grades are D and higher). They need to be at school for tests. *All HS students have the option to leave early next Tuesday and Wednesday if their grades are a D or higher. (see the attached schedule for times) *6th period testing will take place on Monday, 12/20. All other tests are Tuesday and Wednesday. If you have any questions, please call or email. Encourage your child to prepare for exams and work hard right up to that last day! Mrs. Ring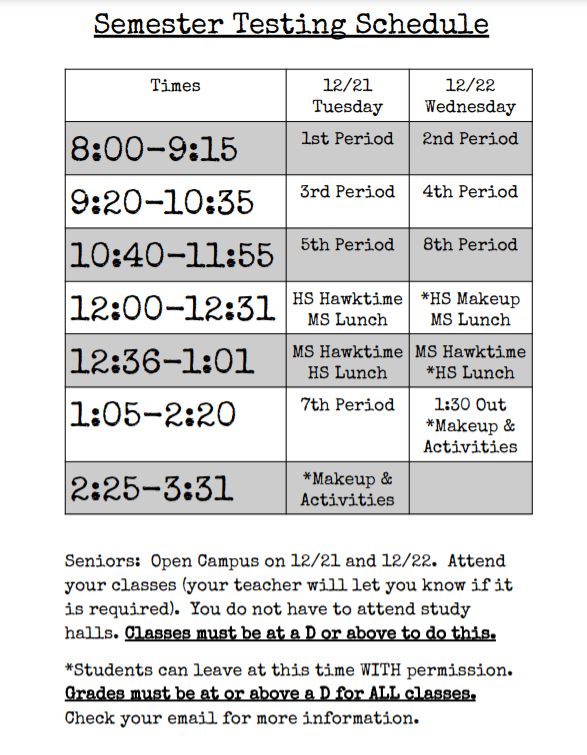 Hello middle school parents (6th-8th grades)! If you haven't heard the exciting news from your middle school student, we are going to the Rialto Theater next Wednesday (12/22) to see Spiderman: No Way Home. Students are earning a ticket, small pop, and small popcorn if they have passing grades and no detentions or major behaviors for the past few weeks at school. It has been a great incentive program here and the kids are VERY excited to go to the movie together! The plan is to leave the school around 8:20 am, start the movie around 9 am, and be back at school in time for lunch around 12:30 pm. School is released for Winter Break at 1:30 pm. Spiderman: No Way Home is rated PG-13. If you do not want your child to watch this movie at the Rialto, please email Mrs. Ring or call the school. An alternate movie will be shown at school (with pop and popcorn too!). From Common Sense Media: WHAT PARENTS NEED TO KNOW Parents need to know that Spider-Man: No Way Home is the third Spider-Man movie starring Tom Holland and the 27th movie in the Marvel Cinematic Universe (MCU). It's fun, funny, exciting, suspenseful, surprising, and very moving and is sure to please Spidey fans. Violence includes a lot of comic book-style fighting and peril, with characters getting slammed and bashed around, falling from high places, etc. There's punching, choking, kicking, explosions, bloody cuts and scrapes, and brief guns and shooting. Characters die, and lives are threatened. There's also brief sex-related dialogue, kissing, and non-graphic partial nudity. Language includes uses of "s--t" and "ass," and a character says "what the ffff." Characters learn from their mistakes and demonstrate perseverance, and messages revolve around the importance of second chances, helping those in need, the lasting impact of doing good deeds, and, of course the connection between power and responsibility.

Glidden-Ralston will be having a soup supper tomorrow night, before the basketball games, starting at 5:00 in the Lunchroom. All Proceeds go to Senior Scholarships.
Wrestling at Riverside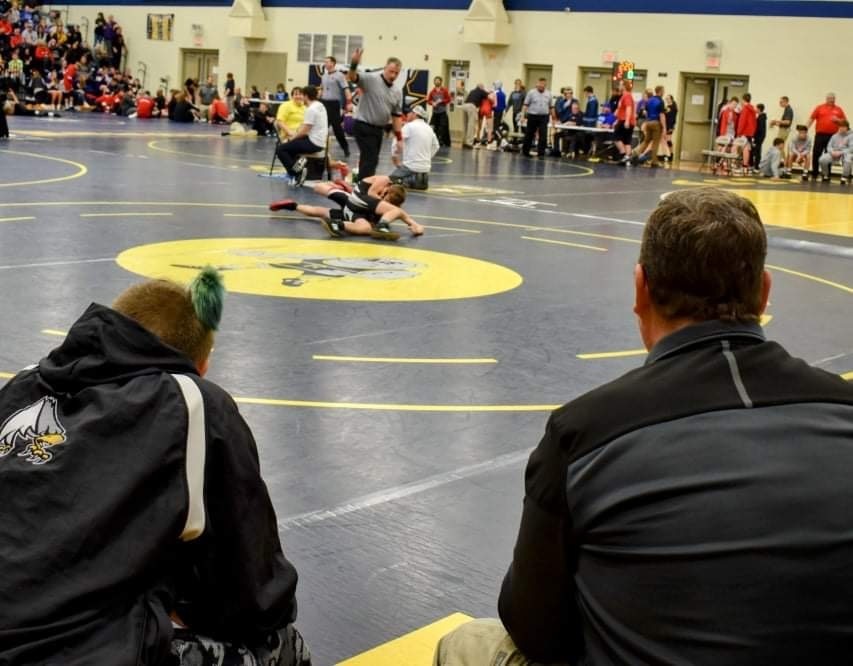 The school board meeting has been rescheduled for tomorrow night (12/16) at 6:30 pm.

The school board meeting for tonight is postponed. We will share the reschedule date as soon as we have it.
West Harrison Schools will be dismissing at 1:00pm tomorrow, December 15th, due to forecasted high winds.

Today's JH boy's basketball game against Siouxland Christian will be played in the East gym at 4:00 pm. The JV boys game will be at 6:00 pm vs. Logan-Magnolia.